Home Improvement Trends for 2018
With the turn of the year comes a slew of new ideas and concepts. Home improvement trends seem to change dramatically each year and it can be difficult to keep up with the new ideas. Which ones will you be able to complete on your own this year? Which ones will you consider hiring a licensed, professional contractor to assist in bringing your ideas to fruition? One key thing to keep in mind when reviewing the new trends that are anticipated for this new year is to be realistic regarding your abilities so that you do not become overwhelmed.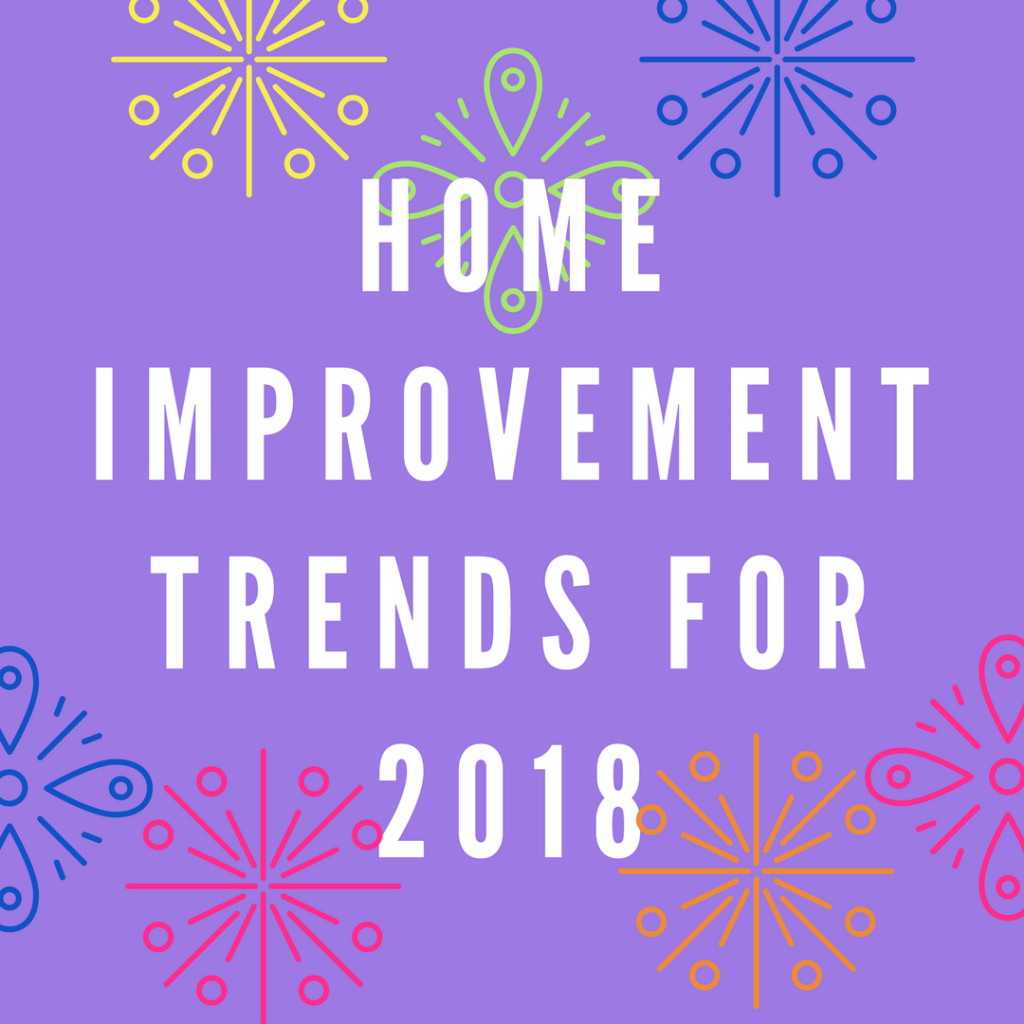 Color, Color, Color!
One home improvement trend that has been emerging over the past few years is adding color to your interior walls and furniture. However, the colors this year are a sharp departure from the neutral tones that have been the palate of choice in the past, with deep, rich hues taking their place (McDonough, 2017). Colors are also not just relegated to the walls and furniture, as kitchen cabinets and appliances have also experienced an increase in the demand for splashes of welcoming color. This can be seen in the 2018 selection for Color of the Year, which is a deep teal called Oceanside by Sherwin Williams, that was inspired by adventure and creative thinking (Winterfeldt, 2017). If painting is not your forte, you might opt to hire a professional painter to bring your idea to life.
Bring the Outside In!
Although trees and plants can be seen dotting the landscape throughout Colorado, it can be a bit chilly during the winter months. One way to combat the chill, but still enjoy nature is to bring plants inside so that you can enjoy them year-round. While houseplants have never really gone out of style, this year will experience a growth in the number of plants that are purchased for interior decorating. However, bringing nature inside is not just relegated to plants, as evidenced by last year's Pantone's Color of the Year, Greenery, which is reminiscent of moss-covered stones (The Family Handyman, 2017). Interior decorators can help to incorporate greenery, whether it is through introducing houseplants to your home or selecting green hues that work with your existing interior.
Comfort is Key
One recent trend, known as hygge, was introduced to the design world a few years ago, but the Scandinavian practice of comfort, coziness, and celebrating the little pleasures of life has been in place as a design aspect to address the boredom and darkness that often occurs during the winter months (Hygge House, 2017). Building off the Danish trend, in 2018 additional foreign influence will be seen in the interior decor practices. For example, the Swedish trend of lagom and the Japanese trend of wabi-sabi will take the interior design field by storm (Tardiff, 2017). While lagom and wabi-sabi can be used on their own, they are also complementary, as each focus on embracing the imperfections and simplicity in design (Tardiff, 2017). Well-worn accent pieces can help to bring about your own version of hygge and comfort.
Going Green is Not Just for the Plants
While the presence of houseplants and green hues have been touched on as being influential trends of 2018, going green will also be a highlight of the year regarding decorating and home renovations. With the trend of homeowners tending to stay in their homes longer than previous generations, investing in sustainable technology and building materials are also expected to make a splash in 2018 (Amaya, 2017). This would include the sourcing of sustainable materials, such as bamboo, as well as investing in solar panels, energy-efficient windows and appliances, as well as reflective paint and shingles for the roof (Nichols, 2017).
Conclusion
It appears that color and sustainability are the top trends to note for 2018, with the focus on greenery and comfort. The cool winters in Colorado can be quite enjoyable outside, but inside, it can be a bleak scene. As such, introducing colors such as the mossy green of Pantone's Greenery or Sherwin Williams' Oceanside can help to induce a feeling of comfort, particularly when combined with soft and welcoming interiors. While some of the trends can be easily accomplished by a weekend warrior or a regular DIY-er, other projects may require the assistance of a professional for you to obtain the results you desire.
References
Amaya, H. (2017). The 9 hottest interior design and decor trends you'll see in 2018. Retrieved from http://www.realtor.com/advice/home-improvement/hottest-interior-design-decor-trends-2018/
The Family Handyman. (2017). 16 home design trends to watch in 2018. Retrieved from http://www.familyhandyman.com/smart-homeowner/16-home-design-trends-to-watch-in-2018/view-all/
Hygge House. (2017). What is hygge? Retrieved from http://www.hyggehouse.com/hygge
McDonough, M. (2017). 10 home design trends to watch out for in 2018, according to Houzz. Retrieved from https://www.washingtonpost.com/lifestyle/home/ten-home-design-trends-to-watch-out-for-in-2018-according-to-houzz/2017/12/15/b64a9b58-df6a-11e7-89e8-edec16379010_story.html?utm_term=.23388dc048a2
Nichols, M. R. (2017). Top 5 global green building trends of 2017. Retrieved from http://www.interestingengineering.com/top-5-green-building-trends-2017
Tardiff, S. (2017). Wabi-sabi is the 2018 home trend imperfect decorators are going to love. Retrieved from http://www.elledecor.com/design-decorate/trends/a12813969/wabi-sabi-etsy-trend-2018/
Winterfeldt, M. (2017). Sherwin-William's color of 2018 is opulent and mysterious – and that's how we like it. Retrieved from http://www.popsugar.com/home/Oceanside-Sherwin-Williams-Paint-Color-2018-44104679