Tips to Finding Reliable Paint Pros
Painting your home can be an expensive undertaking but worth it in every way unless you made the mistake of not hiring a reliable paint pro.  So, we made finding a reliable paint contractor even easier with some very simple steps.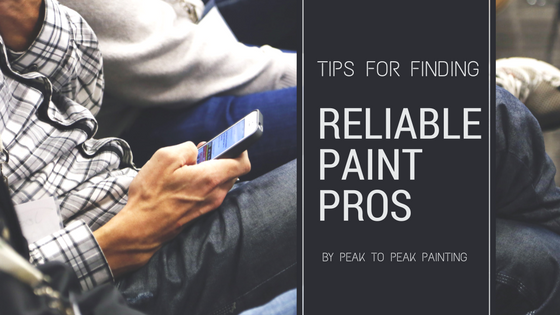 It's All in the Details
When you start calling painting contractors, they are going to need some basic information to decide if it's a job they can or are able to take.  Be prepared to describe weather, existing schedules and your time frame.  These all play into their ability to meet your job needs.  Be ready to tell them what you want to have done.  Is it interior painting?  Exterior?  What's the size of the job?  Do you know the approximate total square footage?  Do you have a start date?
Where to Look for Reliable Paint Pros
Start with your neighbors.  Has a neighbor had their home painted recently?  Talk to them to find out if they were satisfied with their painter.  Did they give you an enthusiastic referral or a 'we needed someone and he was driving down the street'?  What does their home look like?   Do you want your home to look that way too?
Head to the paint store!  You'll probably find painters already there picking up paint for existing customers.  The people behind the counter will also know more about local painters and their reputations than almost anyone else including how long they've been doing business with them.  And you'll have no end to the business cards you can bring home and research.
Once you have gathered a few names, start checking them out on Google, your local BBB's website and Yelp.  Checking these resources first can be a time saver.  Why spend time making calls and getting bids when someone has already taken the time to warn you?  Don't forget to check with your local registrar of contractors for licensing and insurance information if you're really concerned.  You don't want anyone with unresolved complaints.
Once you've done some preliminary checking, select three to meet with you to survey the job.  Pay attention to how thoroughly (or not) they inspect what they will be painting.  It should influence their estimate because even experienced painters will want more than a fast walk around your place to assess the best way to handle the project.
Every painting contractor you met should provide you with a timely written bid and every bid should include:
cost of labor
material costs
the number of coats of both primer and paint
the brand of paint, the name of the product line and sheen level
a thorough description of the surface preparation that will be done (eg. sanding, priming, caulking and patching, removing fixtures)
what is not included
start date and completion time line
references for similar projects
If you have questions in mind, ask each contractor the same questions so that you're comparing like to like.
Experience Matters
To finish off the exterior that my friend's painter had worked so hard on and done so beautifully, she picked out her favorite shade of green for the shutters.  He refused to paint them!  Instead he convinced her of his experience and argued that she would be dating the very house she was trying to refresh.  She ended up so impressed that she hired him to repaint the whole interior.  She figured if he cared so much about the final look, that she could trust him completely.  A professional painter doesn't just paint. They are up to date with the latest trends, techniques, products and colors.
The References
Don't ignore the references provided.  Call them!  Ask them about their experience.  Are they satisfied?  Were they unhappy with any aspect of the job?  When did they have the work done?  Does it still look good?
Legalities
It may seem excessive, but get proof of painter's general liability and workers' compensation insurance for anyone and everyone who will be on the job site. You do not want to be responsible for an accident, injury or property damage. A licensed, insured and reputable painting contractor will have no problem providing you with the proper documents.
Get a Guarantee in Writing
The work should be warrantied against peeling, flaking, excessive fading or any apparent failure that manifests within the first two years.  Just because the paint has a warranty, doesn't mean the painter has one.   Labor is expensive.  Your guarantee should include both material and labor.
Cost
Everyone cares about price.  Both you and the painter.  Don't let your focus being solely on getting the lowest possible price.  It may cost you more in the long run!  Instead, consider price in light of the details on the bid, the quality of the products used, the skill and experience of the paint contractor and his reputation.
Painting is something that nearly every homeowner undertakes multiples times in their life.  And painting is a home improvement project that can radically and instantly change your home's entire look.  Don't leave it to amateurs.  Do it right and hire a paint professional.