Decorate for Christmas Without Lights!
You don't need to wait until it's dark to light up your home with beautiful Christmas decorations.  If you want to forget the fuss of Christmas lights but still want to decorate, here are beautiful ways to decorate that will make your home a standout during the day – no lights necessary!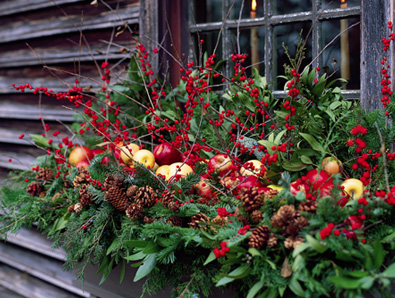 Window boxes make great decorations.  They give you so much room to decorate with evergreens, holly leaves and berries and room to add your own creative touches with local plants.  Finish it off with beautiful ribbons and some thoughtfully placed ornaments.
You can welcome those Christmas cards with a mailbox beautifully decorated in an abundance of winter plants.  If your mailbox is a brick-box style try sitting a large shallow planter on top and fill it with an arrangement of native winter plants wrapped up in your choice of winter red fabric.  Tuck in some extra pine cones or ornaments for a little glitter.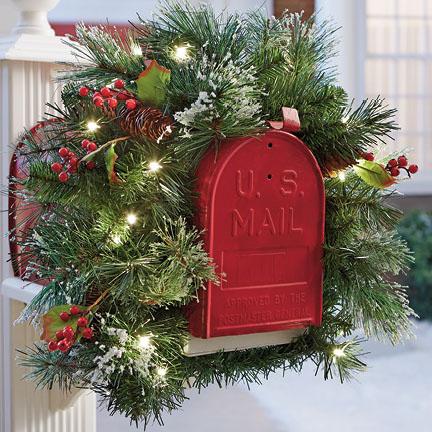 For those of us with the traditionally shaped mailbox, drape it with garland and ribbon.  Wrap holly berries around a thin, flexible wire and use the wire to secure the garland and ribbon on those windy winter days.
Arranging a beautiful Nativity scene on your lawn is a thoughtful way to remind your neighbors and passerby's of the 'reason for the season'.
Garland is a versatile decoration and can add significant interest to your front entry and can be used to wrap nearly everything from deck railings, fences, lamp posts and porch columns.  Wrap it along arbors and trellises, pergolas and archways as well.  It's maneuverability is endlessly impressive.
A stunning centerpiece is a smart way to get big impact.  A sparkling metallic vase or a sleek glass vase lined with birch bark will start you off beautifully.  Choose your favorite winter blooms for color and drama and add dimension and texture with garland, evergreens and sprigs of berries.
Give your front porch or entry way instant charm by simply filling your favorite baskets with pine cones, birch bark, evergreens and holly sprigs.  Finish each basket with a bright red or white bow.
Count it down with an Advent calendar.  You can create one in a multitude of ways, from a simple paper calendar with flaps covering each of the days or by using fabric pockets with a background scene and children's numbering blocks are a super easy way to make your first calendar.  Arrange them by day and decorate each with a thoughtful Advent theme or a winter wonderland scene.
Cloak your backyard's outdoor furniture in holiday fun.  Wrap winter greenery around the backs of your patio chairs, and it with large red ribbon.  Red ribbon will brighten up your light fixtures.  Unless your outdoor cushions are already red or green swap them out for traditional festive colors and don't forget to drape a few warm, soft throws across the furniture just in case it gets a bit too nippy.
For the minimalist, fill beautifully tall, transparent, glass cylinders with ornaments and sprinkle them with a few pine cones and acorn nuts.  If you want a little sheen and shimmer add a light sweep of metallic spray paint.  You can also opt for your own personal color scheme to coordinate with your home's design.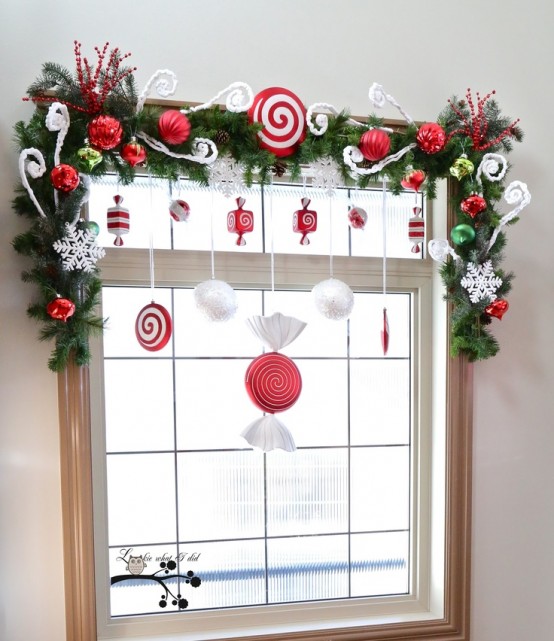 Your home will look like a snow globe when you hang Christmas decorations in the windows.  From simply hanging a gorgeous winter wreath to adorning the windows with your favorite Christmas or winter scene you can make your 'snow globe' as creative as you are.
Craft a traditional Christmas decorative swag for your mantel out of some common traditional materials. Birch bark has great flexibility and light and naturally beautifully patterns.  Bright red berries and miniature snow-covered Christmas trees in multiple heights will add charming holiday touches. Your bountifully full trees make perfect ornament hangers once those leaves drop to the ground.  Seize the opportunity to hang a variety of different sizes and types.
Use the underside of your patio covering to suspend lanterns with red ribbon or fishing wire.  Natural elements such as holly berries and eucalyptus make great choices to fill any size lanterns with the richness of Christmas.  Vary each ribbon's length and make sure to space the finished lanterns far enough apart so that unexpected breezes won't bang them together.
It's relatively easy to decorate with lights but these very easy and affordable designs will add grace and charm and visual interest throughout your home inside and out.