How to Repaint Furniture Like a Pro Painter
You have heard it before – a few coats of paint make a world of difference!  But have you ever applied this to your drab furniture?  Are you sick of looking at your lackluster dresser that has been the same color ever since the day it left your childhood bedroom?  Is your front porch swing getting a little too much sun and fading fast?  A fresh coat of paint can have you admiring your furniture again!
This is advice mostly applies to wood furniture, but for a lot of other materials, you can apply the same steps.  Be sure to take your furniture outside or to a well-ventilated area before anything else!  If you take your furniture outside to paint, be sure it's not too windy, rainy or cold.  These conditions can leave debris in your finished product, create bubbles, etc.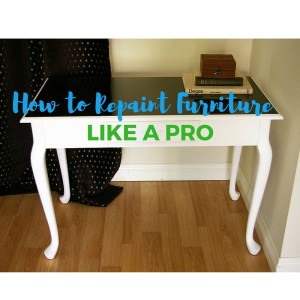 What You'll Need:
Sandpaper (or an orbital sander if you're impatient)
Tack cloth/duster
Primer
Spray Paint
Sealer
Optional: Mask, Masking Tape, Painter's Plastic
Sanding & Prep
We do more sanding than anyone we know, but if you want to make your life easier use an orbital sander with 80 grit sandpaper to remove existing paint/lacquer.  If you're on budget or incredibly patient, use sandpaper and buckle down.  Once you've removed existing paint, switch to higher grit to create a smooth finish.
If there is a piece of your furniture that you do not want painted or you want painted a different color, consider using painter's plastic and tape off the area after a good dusting.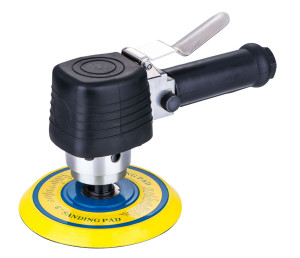 Prime It
Before you prime, be sure to remove any sanding dust you created with a tack cloth.  Like sanding, you don't often see an instant improvement to your project by using primer, but trust me, it's crucial to the success of this job!  It will help the new paint stick better.  Using a tinted primer may be your best bet if you are painting with a darker color.  When applying spray paint, do not spray too closely.  Maintain a distance of at least 6 inches.  When spraying the primer, use long, even strokes.  You are going to apply multiple coats so if you do not cover a tricky spot as well as you wanted, resist the urge to lay it on thick.  When you apply extra paint to one spot without allowing the first layer to dry, you are more likely to get bubbles and drips.  Once you let the first coat completely dry, apply a second.  If you're extra ambitious, a third coat will make your piece that much more durable.  And if you really love your life, you can pick up that sandpaper again and sand between coats of primer!
Paint It
Now that your primer has completely dried, it is time for the fun stuff!  Using your spray paint at a distance of 6 inches or so, apply long, even passes of paint.  Allow ample time to dry and apply a second coat, then repeat for a third coat.
Seal It
If your piece of furniture gets a lot of traffic, sealing it with a clear coat may be a wise decision.  A clear coat is not a necessary step to a good looking finished product, but it will make your piece all the more durable.  Truthfully, it's really not that much more work!  Just be sure to allow ample time for the spray paint to dry before applying a sealer.  And if you see any rough spots, don't be afraid to sand them and paint again if necessary.
And if the Do-It-Yourself route is not your cup of tea, call us!  We'll make quick work of any exterior or interior paint project you may have!  You can reach us in Durango at (970) 903-4305.